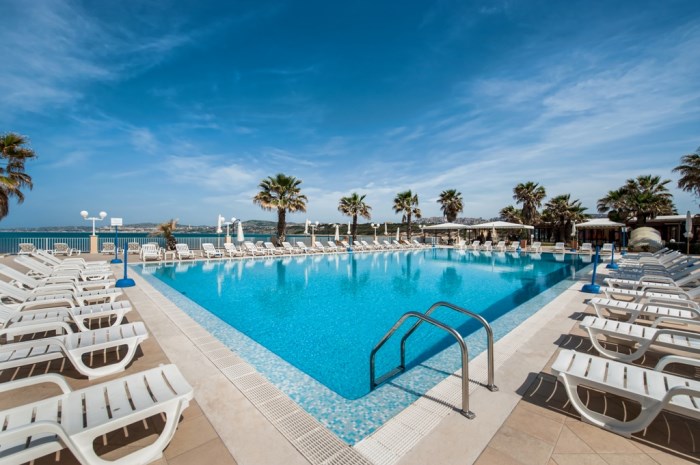 Agrigento - Lungomare Falcone Borsellino, 1
The hotel Dioscuri Bay Palace is set in a wonderful bay overlooking a limpid and charming sea. It enjoys a suggestive view that cannot be equalled. From its excellent position one can admire the sea, incomparable sunsets, the city of Agrigento and the mythical Valley of Temples among which the most imposing and granitic are Concordia, Hercules, Juno and Dioscuri. The visitors contemplate this examples of eternity in ecstasy.
From the hotel the charming seafront of San Leone branches off with its town houses and numerous places of amusement, scene of Agrigento's society life. The hotel has a wonderful swimming pool by the sea and it is adjacent to the delightful tourist harbour, where there is a diving center and the possibility to rent boats and rubber dinghies. The hotel is ideal both for businessmen and tourists and it has 102 rooms, mostly with terrace by the sea. The heart of the hotel is the imposing Patio with the American bar, the room Juno and a wide meeting room. On the first floor there are the Venus room and the majestic Olympus room. The restaurant offers typical Mediterranean food with always tasty and fresh dishes according to the season. From the hotel charming routes on the coast and to the inland branch off.

More
Show Map